Call for Papers
Download the RFIC 2019 Call for Papers (pdf)
RFIC uses a Double Blind review system.
Electronic Paper Submission: Technical papers must be submitted via the RFIC 2019 website at rfic-ieee.org. Hard copies will not be accepted. Complete information on how and when to submit a paper can be found on the RFIC 2019 website. As in last year, a double-blind review process will be followed.
Submission deadline: 14 January 2019
Authors of accepted papers will be required to submit a final manuscript for publication, including a clear die photo of the work described in the manuscript.  
Paper Selection Criteria: All submissions must be in English.  Papers will be selected based on the following factors:
Originality: The paper must be unique, significant, and state-of-the-art. Are references to existing literature included? 
Quantitative content: The papers should give an explicit description of the work with supporting data.
Quality: Clarity of the writing and figures. What is the context of the contribution to previous work?
Interest to RFIC attendees: Why should this work be reported at this conference? 
New technical area this year:
Emerging Circuit Technologies
MEMs sensors and actuators, heterogeneous and 3D ICs, silicon photonics, quantum computing ICs, hardware security, and machine learning applications to RF circuits
Student Programs
PhD Student Sponsorship Initiative (joint with IMS)
Student Volunteer Opportunities (joint with IMS)
Student Paper Contest: 
A student paper award contest will be held as part of the Symposium. Student papers will be reviewed in the same manner as all other papers. To be considered, the author must have been a full-time student (9 hours/term graduate, 12 hours/term undergraduate) during the time the work was performed and be the lead author and presenter of the paper. The email address of the student's advisor must be supplied during submission time and will be used to verify the student eligibility. Complimentary registration will be given to the student finalists as well as the top-three award winners. Selected finalists will also present a poster for Sunday's Symposium Showcase.
 
RFIC 2019 Plenary Speakers
Sunday, 2 June 2019
"The Digital Future of RFICs"
Dr. Greg Henderson
Senior Vice President
Automotive, Communications and Aerospace & Defense
Analog Devices, Inc.
"Do the networks of the future care about the materials of the past?"
Dr. Ir. Michael Peeters
Program Director Connectivity+Humanized Technology
imec
About RFIC
The RFIC symposium is the premier IEEE conference in the world focused on RFIC technology –  About the RFIC Symposium - Video.
2019 Venue: BOSTON CONVENTION AND EXHIBITION CENTER, in Boston, Massachusetts, USA.
Technical Format: The conference starts on Sunday, 2 June 2019 with workshops and a new tutorial event, the Technical Lecture, followed by two Plenary talks and a Reception embedded with the RFIC Symposium Showcase, which will include poster presentations and demos of selected and award winning papers from both industry and academia authors. Monday, 3 June and Tuesday, 4 June 2019 will be comprised of presentations of contributed papers and special lunch-time panel sessions.
Paper Awards: Awards will be presented to authors of 3 selected student papers, as well as to authors of 3 selected industry papers. These authors will be showcasing their work in poster format at the conference's Showcase session that is part of the conference's reception following the Sunday Plenary.
New for 2019!
Technical Lecture: This educational event will be part of the Sunday program for the first time in 2019. The inaugural Technical Lecture will be a 1.5 hour tutorial on Fundamentals of mm-wave IC design in CMOS held by Prof. Ali Niknejad (University of California, Berkeley).  All workshops attendees will have a reduced ($25) registration fee. Due to space limitations, access will be limited to the first 250 registrants.
 
Industry Paper Awards
Important Dates & Links
22 March 2019
FINAL MANUSCRIPTS DUE
2-7 June 2019 
MICROWAVE WEEK 
IMS, RFIC, ARFTG, and Exhibition 
Chair's Welcome
Dear RFIC Community,

I'd like to welcome you to participate in the 2019 IEEE Radio Frequency Integrated Circuits (RFIC) Symposium, which will take place 2-4 June 2019 at the Boston Convention and Exhibition Center in Boston, Massachusetts, USA.

The RFIC Symposium kicks off the 2019 IMS microwave conference week with our traditional Sunday workshops followed by two stimulating evening plenary talks. The 2019 Symposium will introduce a new educational activity during the Sunday program, the Technical Lecture. Immediately after the plenary session we will be holding the RFIC interactive Sunday reception that will highlight our industry show-case and student papers finalists for an engaging social and technical evening event. Monday June 3rd and Tuesday June 4th 2019 will be comprised of parallel tracks of technical presentations and thought-provoking lunch-time panel sessions, with special focus around 5G technologies.

Throughout the conference week, you will have the opportunity to meet and discuss ideas with colleagues and speakers. You will expand your network and knowledge of how the latest RFIC technologies will revolutionize wireless communications in the future and impact the life of all of us.

So, whether you are a student seeking for knowledge and attending your first conference, or an active researcher in the academia or industry, or have any interest in the latest about RFIC technologies and circuits, please take advantage of this opportunity!
I look forward to see you at the 2019 RFIC Symposium in Boston, Massachusetts. As the General Chair for 2019 I pledge to deliver the best possible experience to all the attendees.

Sincerely,

Stefano Pellerano
2019 RFIC General Chair
stefano.pellerano@intel.com
Keynote Speakers from 2018
Distinguished Service Award
2018 Tina Quach Outstanding Service Award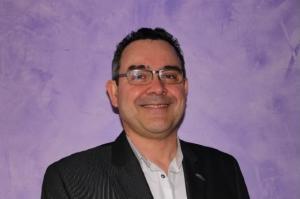 Prof. Yann Deval, University of Bordeaux
Senior Member, IEEE
RFIC Years of Service
TPC Member: 2001-2007
Steering Committee: 2003-2010
RFIC 2010 General Chair
Executive Committee: 2010-2015
Advisory Board: 2015 - present
---
All RFIC 2018 Paper Finalists and Award Recipients (pdf)